Of course the fun continues in our core 6th grade STEM class, students learn about orthographic rendering by building and drawing objects .
Automation & Robotics 6th Grade STEM Curriculum
Students trace the history, development, and influence of automation and robotics as they learn about mechanical systems, energy transfer, machine automation, and computer control systems. Students use the VEX Robotics® platform to design, build, and program real-world objects such as traffic lights, toll booths, and robotic arms.
Students assembling a robot of their own design
JPL Field Trip
All of our school sites were fortunate to visit the Jet Propulsion Laboratories in Pasadena. Managed for NASA by the California Institute of Technology, JPL is the leading U.S. center for robotic exploration of the solar system. Our students loved the opportunity to see where their STEM skills can take them, from exploring our own world to the solar system!
3D printing Fun!
Our students are exploring the hands on, do-it-yourself culture of the Maker Movement with 3D printers. This technology plays an important role in innovation and students love seeing their CAD rendering come to life!
Above: students at Horace Mann use the Maker Bot to make their own Calder sculptures based on the work of Alexander Calder.
Calder Mobile 3D printed and designed by STEM students at Horace Mann
Students at Hawthorne get an impromptu lesson from a mechanical engineer (Mr.Crane) on the use of 3D printing technology
Students used thingiverse to 3D print a replica of a T-Rex skull!
Using Computer Aided Design: Auto Inventor 6th Grade STEM Curriculum
In our Design and Modeling unit students became proficient in Autodesk Inventor a 3D CAD software that has tools for product simulation, 3D mechanical design, tooling creation, and design communication. We were even able to utilize our makerbot 3D printers to print their own designs!
Students adeptly using the CAD software
Chair and Hobby Organizer Design: Putting it all together
Students have been gaining exposure and experience to the principles of design of and modeling using the PLTW curricula . There have been engaging and thought provoking lessons, where students develop critical thinking skills via hands on project based learning. Think you understand how to make a chair? Ask our current 6th graders at Beverly Vista and Hawthorne, they designed, innovated, and developed a brand new design. Have a hobby? Students at Horace Mann and El Rodeo developed their own hobby organizers.

An example of student drafting in their engineer notebook. Sketching is part of the brainstorming process for their final chair design.
Ms.Crane guiding students through the design process.
Students measuring the table to correctly annotate their own designs
Final presentations of chair design. Students at Hawthorne presented their work to assistant principal Mr.Fuhrer.
One student was so excited about his groups design he went above and beyond and made a small model/prototype of their design
Isometric Drawing
Students at all of our school sites have been learning isometric projection which is a method for visually representing three-dimensional objects in two dimensions in technical and engineering drawings.
Sketches from student engineering notebooks in Mrs.Castanon's class at Beverly Vista
The Design Process

The engineering design process is the set of steps that a designer takes to go from first, identifying a problem or need to, at the end, creating and developing a solution that solves the problem or meets the need. Students were introduced to this concept and we will revisit the design process in all of our future projects
Students at Hawthorne learn about the design process via the evolution of the baseball hat!
August-September
Skimmer Challenge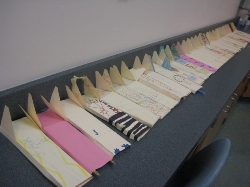 Students at all school sites participated in the skimmer challenge. Building these skimmers was the culmination of our unit on measurement. Students were able to demonstrate their ability to accurately and precisely measure using both English and Metric measurements. The greater precision and accuracy lead to better skimmer performance!
Straw Plane
Mr.Nourian at El Rodeo and his students exploring the principles of aerodynamics with their straw plane models. Students had to be proficient in measuring and building their planes in order to construct the most aerodynamic model for flight. Students then measured and accurately graphed the resulting flight data to learn how to visualize and compare their results.
Marshmallow Challenge
Inspired by the TED talk the "Marshmallow Challenge" was a great activity to introduce students to the type of hands on, collaborative, inquiry based projects we will be doing in STEM. It was incredibly inspiring to see the students excited to explore. Everyone wanted to do multiple iterations, learning from "mistakes" and implementing better design with each successive round
Click to read more about this project, perhaps you can do a marshmallow challenge at your work place!
Beverly Hills Unified School District
STEM Initiative

Central Question:
HOW DO WE BUILD POSITIVE CHANGE, CONNECTIONS,
AND RESPONSIBILITY IN A GLOBAL SOCIETY?
On November 26th, 2012, the Board of Education approved the BHUSD's proposal to pursue a district focus in Science, Technology, Engineering, and Mathematics (STEM), beginning with a launch of programs at our middle schools in the Summer of 2013. For information on what is going on in our Middle School STEM classes, please click here: /apps/pages/index.jsp?uREC_ID=31992&type=d&pREC_ID=521099, and for information about what is going on with high school Robotics, click here: http://team1515.org/

BACKGROUND

An analysis of the last ten years of trends in the economic workforce has led our last two Presidents to launch educational campaigns that address the diminishing pursuit of students majoring in Science, Technology, Engineering, and Mathematics (STEM) disciplines (America Competes Act, 2007; Educate to Innovate, 2009). As a vehicle for strengthening our capacity to innovate and remain competitive in a global economy, supporting STEM in our schools is a priority at the national and state level. Although there has been an increased focus on the development of STEM objectives, public schools continue to provide instruction in mathematics and science as isolated subjects, leading to a shrinking pipeline of a career ready workforce in STEM fields (US Department of Labor, 2007; National Science Board, 2007). National PISA rankings, along with research conducted by the National Science Board, indicate static performance from American schools in preparing students with the science and mathematics skills that will ensure a globally competitive workforce (NSB, 2007; OECD's PISA Rankings, 2009). Similar results are found in California's efforts to increase the STEM pipeline, revealing that of the high school class of 2005, only 4% of students graduated in STEM related fields by 2011. In sum, we have observed a disconnect between our nation's drive to produce a competitive workforce in STEM fields, and our public schools' efforts to keep pace with the needs of an increasingly global economy.
Mirroring the results at the national and state level, the Beverly Hills Unified School District has shown mixed performance in mathematics and science in grades 6-12 over the last five years. Last year, a number of efforts were initiated to improve mathematics and science achievement:
Common Core Standards and National Science Standards Alignment: collaboration among core departments on the mathematics standards, draft national science standards, and English Language Arts standards, which include integration of technical subjects (integration across subjects) to ensure college and career readiness
Medical Science Academy: launch of the high school Medical Science Academy, which has already shown early success
District Mathematics Committee: focus on improved mathematics achievement
Teacher Collaboration and Articulation: leadership and improved articulation among all grade levels (high school department chairs and the reinstatement of middle school subject area specialists)
Curriculum Revisions: improved pacing of mathematics and science courses in middle school and high school, with a focus on 8th to 9th grade transition
Professional Development Resources: expanded support for mathematics and science teachers (research-based conferences, summer workshops, and network share folder resources)
Partnership with Loyola Marymount University: the Center for Math and Science Teaching (CMAST: focused on mathematics instruction, including STEM integration)
Increased Administrative Focus in Instruction: an expanded effort, at the high school in particular, to ensure best practices in mathematics and science courses.
Technology Professional Development: improved system for high school technology professional development; integration of iPads in K-8; revision of the K-12 district technology plan
Intervention Resources: equitable distribution of resources, including Title I intervention funding focused on middle school and high school literacy and mathematics
We believe these initiatives will yield positive results; however, we seek to elevate our educational program to a competitive level. To this end, we propose a thorough review of our middle school programs and structure, with a focused exploration of STEM integration. In support of STEM, research on best practices points to an integrated model as a component of an effective approach (Furner & Kumar, 2007; National Middle School Association, 2010; Stohlmann, Moore, McClelland, & Roehrig, 2011). Research also indicates that an integrated model increases student interest and achievement in mathematics and science at all levels, including students who are identified as gifted or receiving special education services (Lam, Doverspike, Zhao, Zhe, & Menzemer, 2008; Marshall, McGee, Glenn, McLaren, & Veal, 2011). STEM schools have emerged throughout the nation as a response to this drive toward an integrated model. Beverly Hills High School has taken the lead on this approach with the Medical Science Academy (MSA), a model that engages teachers across disciplines to integrate core curricula around the health sciences. The early success of the MSA launch has fueled interest in expanding on this integrated STEM delivery model at our middle schools.
NEXT STEPS IN PROCESS AND TIMELINE: RECOMMENDED MIDDLE SCHOOL PROGRAM FOR SUMMER/FALL 2013:
Develop a BHEF Summer School STEM program for middle school students
Initiate a STEM elective for Fall 2013 (embed Science Olympiad in this course)
Provide Science Olympiad program at all 5 school sites
Engage site administrators and teachers in the development of a district or site-based theme or central question related to STEM.
Provide 2013-14 STEM/PBL-focused professional development for middle school teachers (consider hiring a Teacher on Special Assignment (TOSA) to support STEM best-practices)
Purchase identified STEM program resources (curriculum/equipment)
Structure middle school master schedule to provide common planning time for middle school teachers
Engage community and corporate sponsors/partnerships
Offer 5 student/parent nights (fairs/competitions) at BHHS, STC building
FINAL THOUGHTS: Although we believe our educational programs in science, technology and mathematics are adequate at some levels, we affirm our drive to pursue the finest programs for our students. The time for a formal exploration of middle school programming in science, technology and mathematics is ideal. With a body of supportive research, a shift to national standards that reinforce STEM practices, and consideration of our somewhat traditional instructional practices—now is the time to re-examine our programs, our delivery model, and our professional beliefs about what our students need to reach their potential in a world that is increasingly dominated by STEM fields. We owe it to our students to begin this pursuit.
References


California Department of Education, DataQuest: California Postsecondary Education Commission, Custom Data Reports. California Postsecondary Education Commission. Retrieved from http://www.cpec.ca.gov/StudentData/StudentSnapshot.ASP?DataReport=Stem1
Common Core Standards Initiative (2010). National Governors Association Center for Best Practices (NGA Center) and the Council of Chief State School Officers (CCSSO). Retrieved from http://www.corestandards.org/the-standards


Educate to Innovate (2009). Retrieved from http://www.whitehouse.gov/issues/education/k- 12/educate-innovate


Furner, J., & Kumar, D. (2007). The mathematics and science integration argument: A stand for teacher education. Eurasia Journal of Mathematics, Science & Technology, 3, 185-189.


H.R. 5116, (2010) the "America Creating Opportunities to Meaningfully Promote Excellence in Technology, Education, and Science (America COMPETES) Reauthorization Act of 2010,"

Lam, P., Doverspike, D., Zhao, J., Zhe, J., & Menzemer, C., (2008). An evaluation of a STEM program for middle school students on learning disability related IEPs. Journal of STEM Education, 9(1/2), 21-29.

Marshall, S.P., McGee, M., Glenn, W., McLaren, E. & Veal, C.C. (2011). Discovering and developing diverse STEM talent: Enabling academically talented urban youth to flourish. Gifted Child Today, 34(1), 16-23.

National Middle School Association. (2010). This we believe: Keys to educating young adolescents. (Executive Summary). Retrieved from http://www.amle.org/portals/0/pdf/about/twb/This We_Believe_Exec_Summary.pdf

National Research Council (2012). A framework for k-12 science education: Practices, crosscutting concepts, and core ideas. Retrieved from http://www.nap.edu/openbook.php?record_id=13165&page=R1

National Science Board (2007). A national action plan for addressing the critical needs of the U.S. science, technology, engineering, and mathematics education system, NSB-070114. Retrieved from http://www.nsf.gov/nsb/edu_com/draft_stem_report.pdf

Solomon, G. (2011). Science, technology, engineering and math: For our children's future. California State PTA Annual Convention, April 29, 2011.

Stohlmann, M., Moore, T., McClelland, J., & Roehrig, G.H. (2011). Impressions of a middle grades STEM integration program. Middle School Journal 43(1), 32-40.

The Organisation for Economic Co-operation and Development (OECD), 2009 PISA Rankings. Retrieved from http://www.oecd.org/pisa/46643496.pdf
The United States Department of Labor (2007). The STEM workforce challenge: The role of the public workforce system in a national solution for a competitive science, technology, engineering, and mathematics (STEM) workforce. Retrieved from http://www.doleta.gov/youth_services/pdf/STEM_Report_4%2007.pdf